Niagara-on-the-Lake
Wineries
Located in the premium wine growing area of Niagara-on-the-Lake, bordered by the Niagara Escarpment, the Niagara River and Lake Ontario, we are a close-knit neighbourhood of member wineries and vineyards. Our 100% VQA wines are produced in the heart of wine country and many are only available for tasting and purchase at our cellar doors.
** Look for the heart icon to add your favourite wine experiences to your personalized wine country route. Don't forget to book directly with each winery in advance!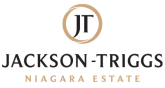 Jackson-Triggs Niagara Estate
Established in 2001, the Jackson-Triggs Niagara Estate Winery is one of the most technologically advanced winemaking facilities in Canada and employs a gravity-flow assisted system of winemaking.
Details