Niagara-on-the-Lake
Wineries
Located in the premium wine growing area of Niagara-on-the-Lake, bordered by the Niagara Escarpment, the Niagara River and Lake Ontario, we are a close-knit neighbourhood of member wineries and vineyards. Our 100% VQA wines are produced in the heart of wine country and many are only available for tasting and purchase at our cellar doors.
** Look for the heart icon to add your favourite wine experiences to your personalized wine country route. Don't forget to book directly with each winery in advance!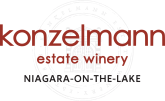 Konzelmann Estate Winery
Konzelmann Estate Winery is heralded as, 'Niagara's exclusive lakeshore winery' but that is more reflective of the quality of the wines than any pretence among the staff or stewards of the winery.
Details