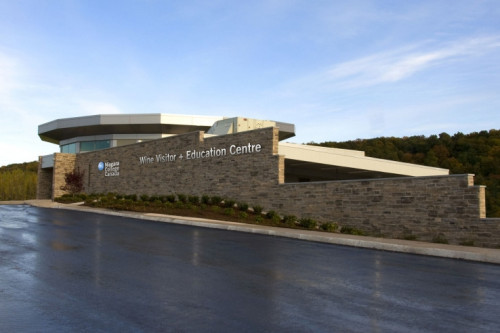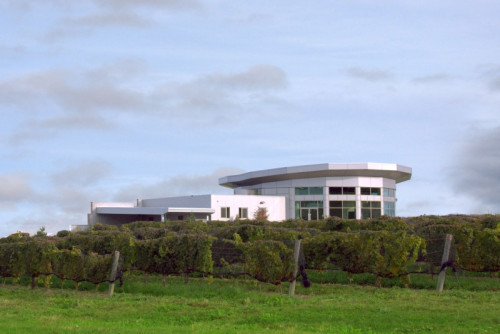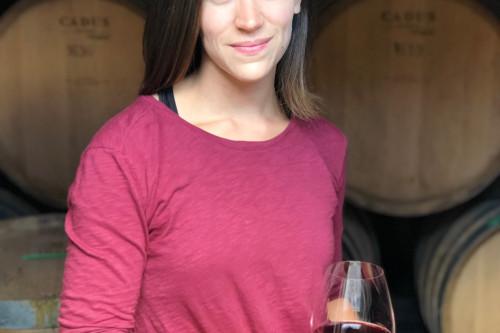 Niagara-on-the-Lake is a key destination not only for those who enjoy wine, but also for growers, producers and winemakers from around the world. There is a terrific amount of viticultural knowledge in the region and the terroir is a global destination for those with a passion for winemaking and a desire to contribute to its growth and development. With so much expertise in one region, it is only natural that Canada's only commercial teaching winery should be located in Niagara-on-the-Lake. Also natural, is the facility's history of producing award-winning, 100% VQA wines from winemaker, Gavin Robertson.
The Niagara College Wine Visitor + Education Centre is located right on the college campus, at the base of the Niagara escarpment in the St. David's Bench sub-appellation. The Centre is also home to Niagara College Teaching Winery which is the first facility of its kind in North America. The Wine Visitor + Education Centre is the ideal destination for those interested in learning wine basics or enhancing their knowledge through specific tour and seminar experiences.
The Niagara-on-the-Lake campus is also home to NC Teaching Brewery, the first commercial teaching brewery in Canada, and NC Teaching Distillery, the first and only of its kind in Canada. School Spirits and Spirits 101 products, created by Artisan Distilling students and Distiller, David Dickson, are also sold in the Wine Visitor + Education Centre, along with Cider 101 and Single Batch Series ciders from wine/cidermaker, Alison Findlay.
Allison is the first female winemaker at the Teaching Winery and a Niagara College grad! Graduating from the Niagara College Winery & Viticulture Technician program in 2014 and hasn't looked back since. After having a wonderful career so far in the Ontario wine industry, we are ecstatic to welcome her back to our Teaching Winery, where she continues to produce outstanding wines and become a valuable mentor for the budding industry professionals.
Not only does Niagara College host an award-winning winery but they are also the site of future winemakers! NC offers some unique programs that not only teach theory but also teach using applied learning. Students can been seen on any given day out in the teaching vineyards pruning and tying the grapevines as well as in the winery producing their own "project wines". Being on-site gives you the opportunity to join the team at Niagara College Teaching Winery and see what it would be like to be a student for a day!
Also on-site is the Canadian Food & Wine Institute and lunch or dinner at Benchmark Restaurant with a glass of the Winery's highly acclaimed Pinot Noir or Chardonnay is the ideal combination of great taste and breathtaking scenery.
The Niagara College Teaching Winery is a unique, state of the art 'living laboratory' for students, dedicated to the promotion of the terroir and the production of the highest quality VQA wines.