Niagara-on-the-Lake
Wineries
Located in the premium wine growing area of Niagara-on-the-Lake, bordered by the Niagara Escarpment, the Niagara River and Lake Ontario, we are a close-knit neighbourhood of member wineries and vineyards. Our 100% VQA wines are produced in the heart of wine country and many are only available for tasting and purchase at our cellar doors.
** Look for the heart icon to add your favourite wine experiences to your personalized wine country route. Don't forget to book directly with each winery in advance!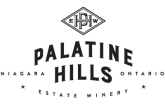 Palatine Hills Estate
The making of wine in Niagara-on-the-Lake has a tradition that goes back to the early soldiers of the historic War of 1812. It is only fitting that Palatine Hills Estate now produces modern wines from the very lands where these soldiers once fought.
Details